SO MANY TO CHOOSE FROM
ALL NEW
HAVE ANY QUESTIONS PLEASE EMAIL US OR CALL
630 915 6155
RETURNS ONLY GOOD TILL OCT 15 AFTER THAT WERE SORRY
FREE SHIPPING ONLY FOR THE 48 INNERSTATES
HAWII ALASKA THERE WILL BE REGULAR SHIPPING RATES
Rebel School Girl Costume
includes a black wet look jacket with zip to close at front,
a white sleeveless shirt, a pretty tartan mini skirt and a tie to match.
please remember to look for accessories for costumes in are store to complete your costume

Check out our accessories for glasses, stockings and leather look studded gloves that we do have available to purchase separately.
Please note that this is a short fitting costume, skirt is quite short,
Miss Muffet Deluxe Adult Costume. Includes Pink Corset Style Dress with Silver Trim and Attached Crinoline, Hair Bow. Adult Size
Bring back the good old days of livin' for your favorite rock band with style this Halloween! The Rock Groupie Adult Costume includes a shinny faux leather red mini skirt, a black fringed shirt, a pair of black fishnet arm warmers, and a cool red VIP bag.
GREAT COSTUME
WITH ALL THE STUFF TO MAKE YOUR NIGHT AWESOME.
Includes: Skirt, shirt, arm warmers, and bag.
Does not include: Jewelry, wig, stockings, or boots.
Pair with your favorite 80's Rock Lover for an awesome couples theme this Halloween!
You'll look powerfully provocative in the Touched By Venus Adult Costume which includes: A metallic gold mist print dress with attached beautifully draped cape, adjustable hem and exquisite embellished front appliqué. Rhinestone head piece and armbands.
ncludes: Dress/Cape, Headpiece, Armbands.
Does not include shoes.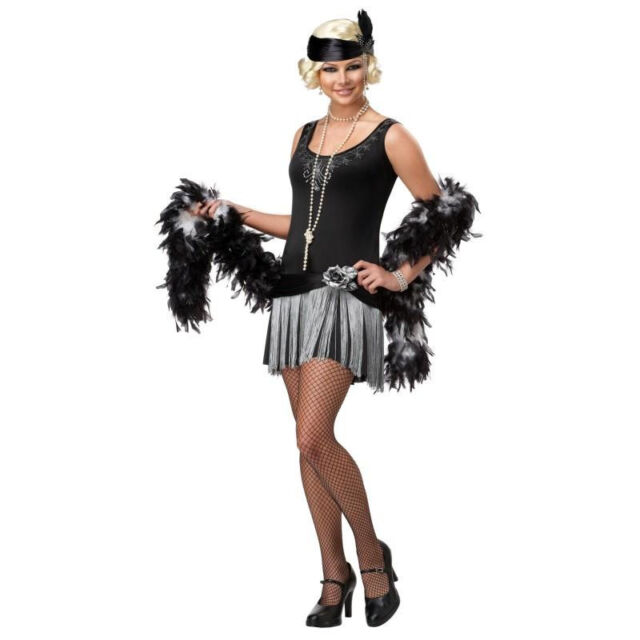 The Teen Flapper Costume includes dress with beaded effect and attached fringe skirt headband with feather and trim, rose pin. Does not include wig, jewelry, boa, stockings, shoes.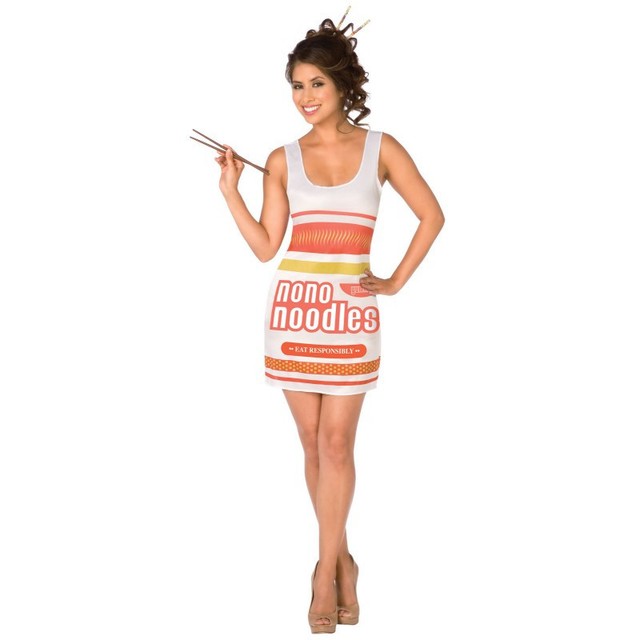 No time to cook, you need something hot from the microwave with the Instant Noodles Adult Costume. This delicious fast meal disguise includes a white, yellow and red mini-dress with "nono noodles" printed across it.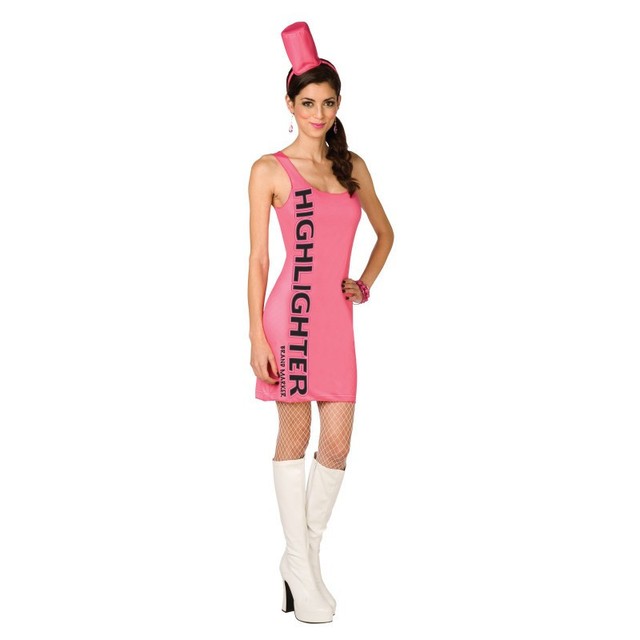 f you've always liked that satisfying feeling of coloring over important lines of text with your highlighter, the Pink Highlighter Adult Costume is a perfect fit for you. When you arrive boldly wearing bright pink, you'll be showing everyone that you can't be ignored, much like those highlighted words on the page.
What's more fun than a pink highlighter?
Includes: Dress, Headband.
Does not include earrings, bracelet, stockings, or boots.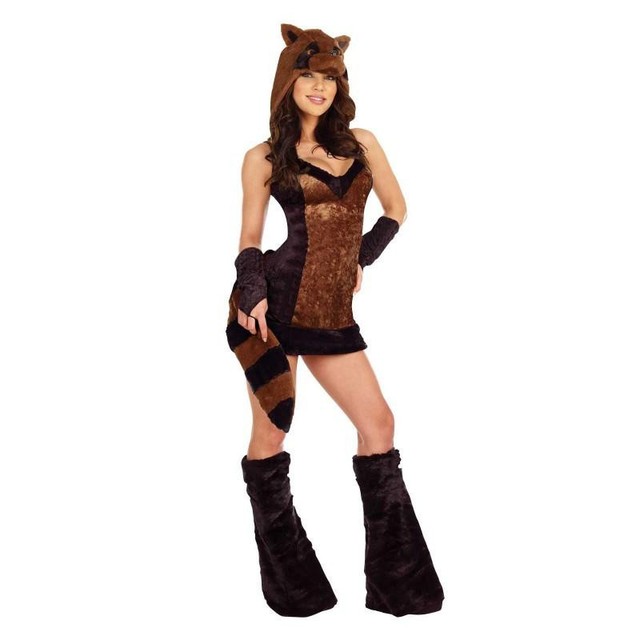 You'll look like a provocative party animal in the Life on the Hedge Raccoon Adult Costume. Includes a crushed velvet brown dress with attached hood, striped raccoon tail, matching arm warmers and a pair of plush leg warmers.
Available in Adult Sizes: Small, Medium, Large and X-Large.
Includes: Dress/Tail, Arm Warmers, Leg Warmers.
You'll surely allure in this pirate couture! The Plank Walking Pirate Adult Costume includes: A titillating twill vest top featuring a cherry red lace up detail, matching wrist cuffs, and a faux shredded skirt with an attached gold chain.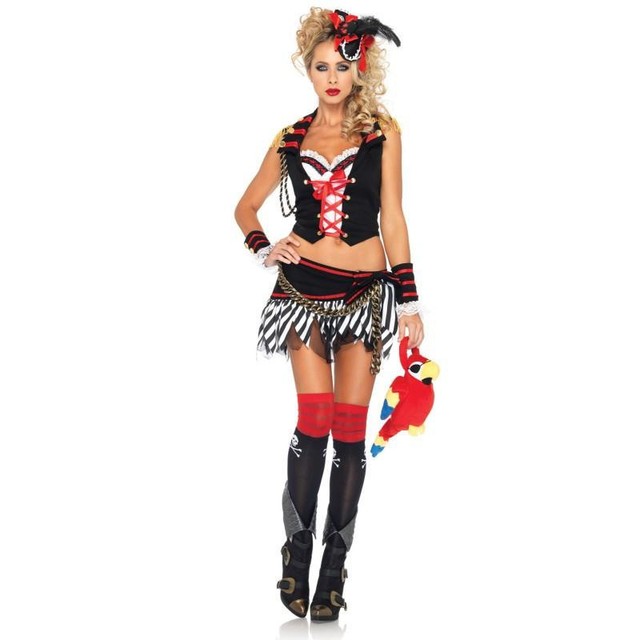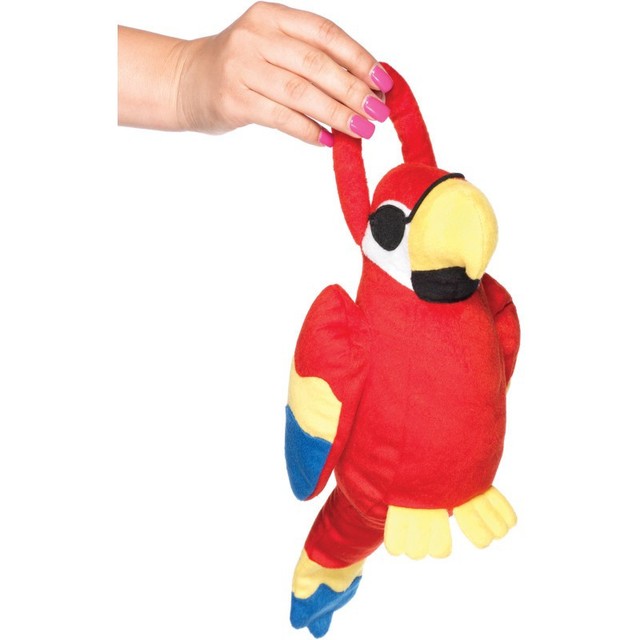 Available in Adult Sizes:
Includes: Top, Wrist Cuffs, Skirt/Chain.
Does not include stockings, hat, parrot or shoes.
but look at are other listing for the purse too cutttttttttttteee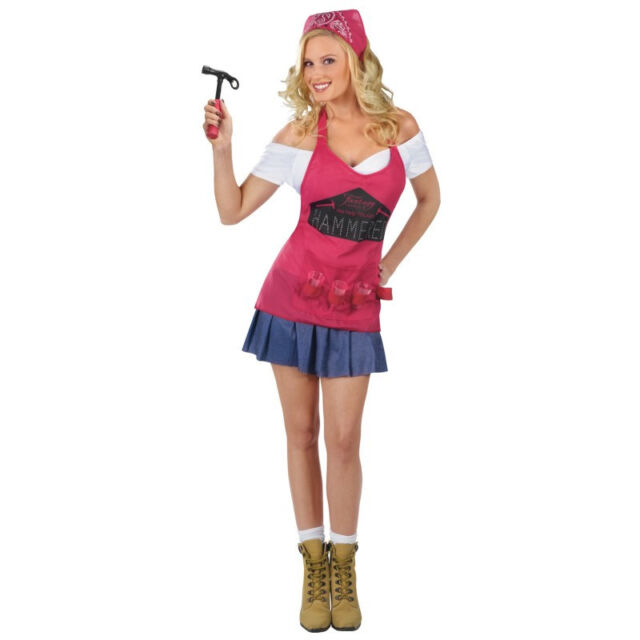 Everyone will want to party with you when they see you in the Hammer Time Adult Costume which includes: An off the shoulder dress featuring a pleated faux denim skirt, hot pink apron featuring a "We help get you hammered" screen print, shot glass loops, pink bandanna, hammer shaped bottle opener and 3 shot glasses.
Available in Adult Sizes: Small/Medium and Medium/Large.
Includes: Dress, Apron, Shot Glass Loops, Bandanna, Bottle Opener, 3 Shot Glasses.
Does not include socks or shoes.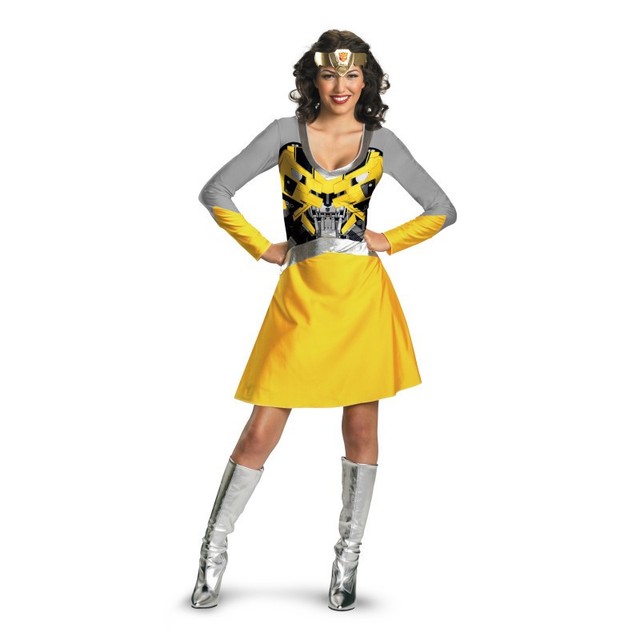 Transform(er) yourself into an adorable version of Bumblebee and save the day! Or at least the Halloween party.
Dazzle everybody with this futuristic Transformers 3 Dark of the Moon Movie - Bumblebee Female Classic Adult Costume. Many think that Transformers is only for muscle men, but you know that's not true. Transform yourself into a highly trained, kind of clumsy autobot with this detailed dress. Watch out for those drinks though, because chances are someone will try to find out where AllSpark is hidden. Since Shia LaBeouf won't be there to have your back, you will need to take down Megatron by yourself -- meaning you'll have to entertain your guests. Don't worry, the costume will do all of the work for you.
This costume includes a yellow-and-grey dress with a robotic design on the bodice.
A golden headpiece with a red logo matches the dress.
The authentic pattern lets your guests know that you have more skills than meets the eye.
Includes: Dress, headpiece.
Does not include: Boots.
This is an officially licensed Transformers product.
With a butterfly kiss and a ladybug hug, sleep tight little one like a bug in a rug.
Your best lady stands out in this cute Little Miss Ladybug Tween Costume. She'll look like she can fly through gardens and fields full of blooms with her signature crimson and coal colors. The legendary critter steals hearts with a lovely personality that is known to bring good luck and cheer. Let her spread the lady bug luck when she arrives at her next party or on Halloween night.
Keep her buzzing along in style while wearing her Little Miss Ladybug Tween Costume. She is surely the cutest bug in the neighborhood inside of her ravishing red bodice with black stripes, resembling corset boning.
Strong double ties hold the top securely, and a black bow ties at the front. The black tutu-style skirt has pops of cherry dots and is lined with red organza.
The thigh-high black tights are opaque and have ruby bows at the top. Her whimsical wings are a soft color of blush and each wing has shimmer dots to resemble her most famous spots. Her look is complete with a snug-fitting black headband with antennae.
Includes: Dress, Wings, Headband, Stockings.
Does not include shoes.
Who is that under Batman's mask? And now, the world is my oyster. Right, Bruce?" The Batman Super Villain Riddler Adult Costume includes a sexy fitted green dress, a collar with an attached tie, a matching bowler-style hat and purple opera-length gloves.
Available in Adult sizes: X-Small, Small, Medium and Large.
Includes: Dress, collar/tie, hat and gloves.
Does not include: Makeup, cane or shoes.
This is an officially licensed DC Comics costume.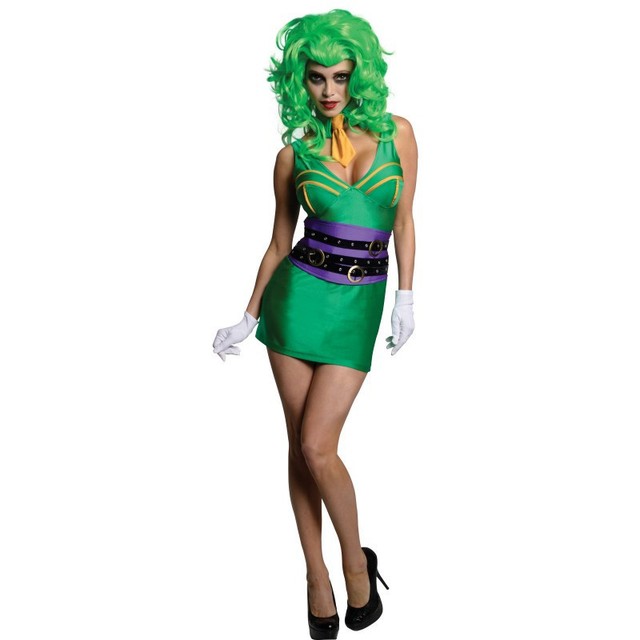 Look insanely sexy in this crazy cool Joker ensemble this Halloween! The Batman Super Villain Joker Costume includes a fitted green dress, a matching green collar with yellow tie, a green character wig and white gloves.
Available in Adult sizes: X-Small, Small, Medium and Large.
Includes: Dress, collar, wig and gloves.
Does not include: Makeup or shoes.
This is an officially licensed DC Comics costume.
Is only 4 marked items in the shipping area not all items have free shipping unless stated please ask questions

and all items you may offer best offer even tho the best offer isnt there just email us and we be glad to help